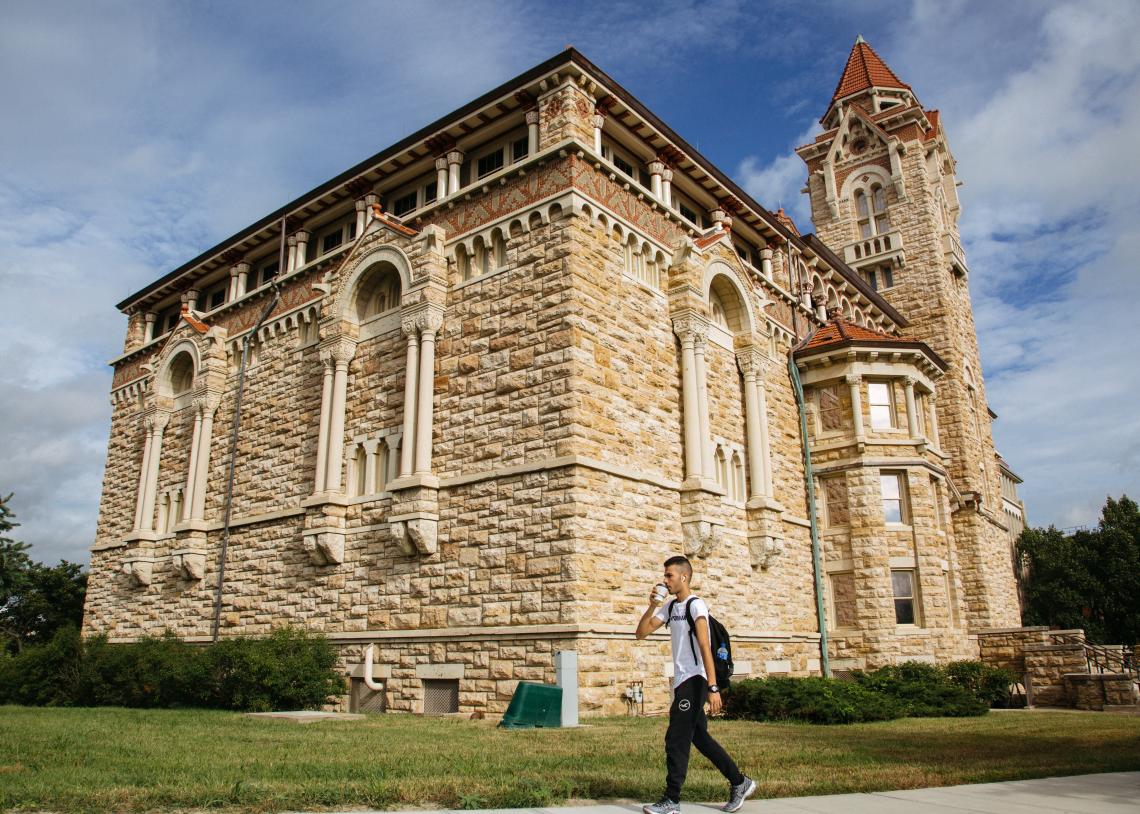 One of KU's signature buildings, Dyche Hall was built as the Museum of Natural History in 1901-02 to a design by Kansas City architects Walter C. Root and George W. Siemens; they used the Venetian Romanesque style characteristic of southern European churches of 1050-1200.
The Oread limestone building is distinguished by a steep-roofed tower, arched doorway, and elaborate stone ornamentations of natural and fantastic animals and plants. It is part of the University of Kansas Historic District, listed on the National Register of Historic Places in 2013. 
After his death the building was named for professor Lewis Lindsay Dyche (1857-1915). Its first purpose was to house the famous Panorama of North America Mammals he created for the Kansas Pavilion at the 1893 World's Columbian Exposition in Chicago. Dyche helped design the main-floor diorama that still displays part of the collection he began while a protégé of natural history professor Francis H. Snow in the 1880s.
Dyche began teaching while a KU undergraduate, earned two bachelor's and two master's degrees and was professor and chair of zoology and taxidermy and curator of birds and mammals. He continued collecting on expeditions throughout North America and in Greenland and the Arctic and gave lectures dressed in Inuit garb internationally.
Included in the 1893 exposition panorama was the stuffed and mounted body of the horse Comanche, the only survivor of the U.S. Cavalry force at the Battle of the Little Bighorn in June 1876. After the horse's death at Fort Riley in 1891, Dyche was asked to preserve it; it has remained in the museum and in 2005 was moved to a new fourth-floor climate-controlled exhibit space.
The building was closed from November 1932 to June 1941 for substantial restoration and was enlarged in 1963 and 1996. In 2017-18 it had a $4.2-million renovation that included a new roof, cleaning and repairing exterior stonework, new windows, and a new HVAC system on the seventh floor. The eight remaining original limestone grotesques were moved from their external pedestals into the Panorama Gallery because of erosion and deterioration and were replaced by replicas; three of the original 12 had been moved during the 1963 renovations, when one was lost.
Dyche houses the Biodiversity Institute and the Natural History Museum administrative offices and divisions including botany, herpetology, ichthyology, informatics, vertebrate paleontology, mammalogy, and ornithology.
Dyche Hall

1345 Jayhawk Blvd.
Lawrence, KS 66044
---