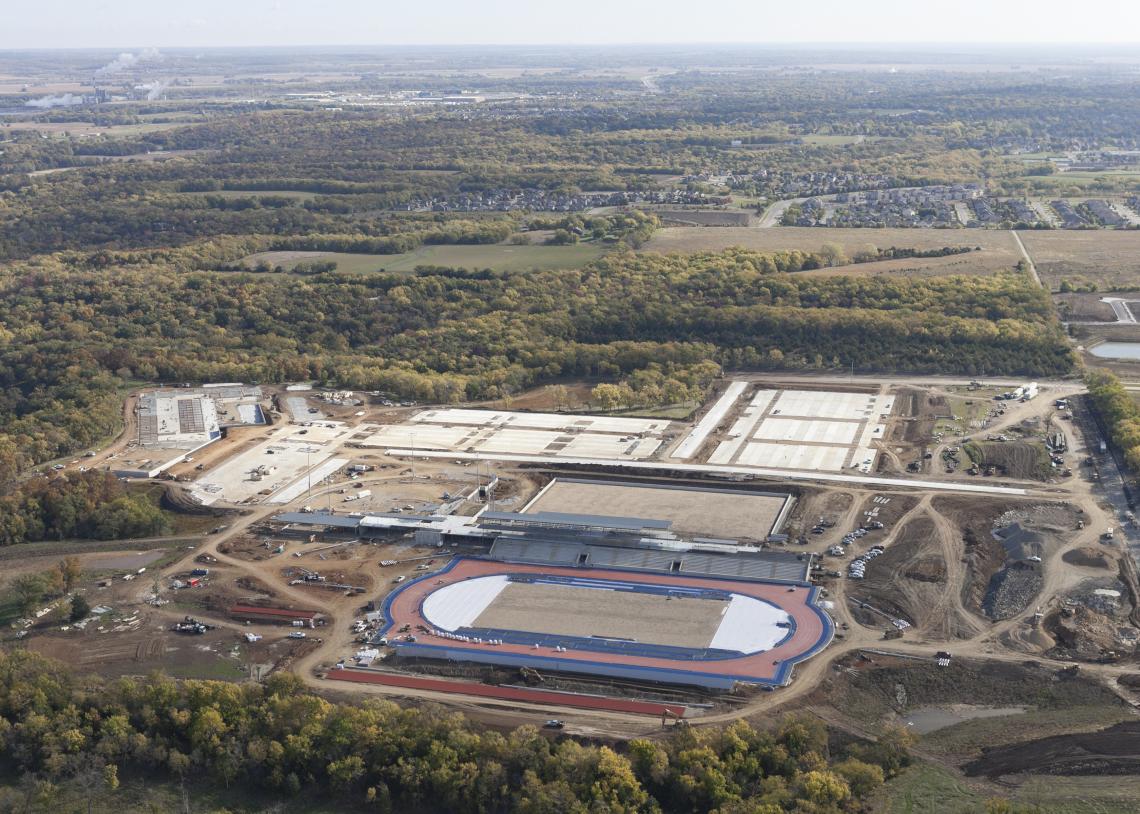 A cooperative effort of the City of Lawrence and Kansas Athletics that opened in 2014 in northwest Lawrence, the park provides community athletics and exercise facilities as well as NCAA-standard competition and practice venues for KU soccer, softball, tennis, and track and field teams.
It is one of only five U.S. tracks certified Class 1 by the International Association of Athletics Federations. Facilities include the 181,000-square-foot Sports Pavilion Lawrence, which has fitness areas, a walking track, and eight basketball courts; a track and field stadium; soccer field; softball stadium; and several other amenities.
The facilities used by KU:
Jayhawk Tennis Center: The $9 million building has six indoor and six lighted outdoor courts, locker rooms, coaches' offices, training room and lounge, multipurpose room. and stadium seating.   
Soccer stadium: The 2,500-seat stadium for the women's soccer team incorporates a locker room, players lounge, coaches' offices, athletic training room, and an equipment room.
Arrocha Ballpark: The 1,100- seat stadium has a press box, clubhouses behind the first and third base dugouts with locker rooms, bullpens, coaches' area and training room, batting cages and an 11,000-square-foot indoor training facility. The dimensions of the turf and clay field are 200 feet down the foul lines and 220 feet to centerfield. The first Arrocha Ballpark, near Hoglund Field south of the fieldhouse, was named for Demosthenes Arrocha, father of Cheryl Womack, an alumna and businesswoman who gave $2 million to help build it. The name was transferred to the new facility at Rock Chalk Park in 2014.
Track & field stadium: The Kansas Relays moved to the new facility, recognized by the International Association of Athletics Federations as the fifth Class I Certified track in the United States, in 2014. It has a nine-lane, 400-meter track with a 7-foot jogging lane on the outside and a 436-foot, six-lane warm-up straightaway west of the track that can also be used to run the 100-meter and the 110-meter hurdles. The stadium has 7,000 permanent seats, expandable by 3,000 temporary seats. It has about90,000 square feet of locker rooms, offices, official's rooms and athletic training facilities.
Rock Chalk Park

6100 Rock Chalk Drive
Lawrence, KS 66049
---