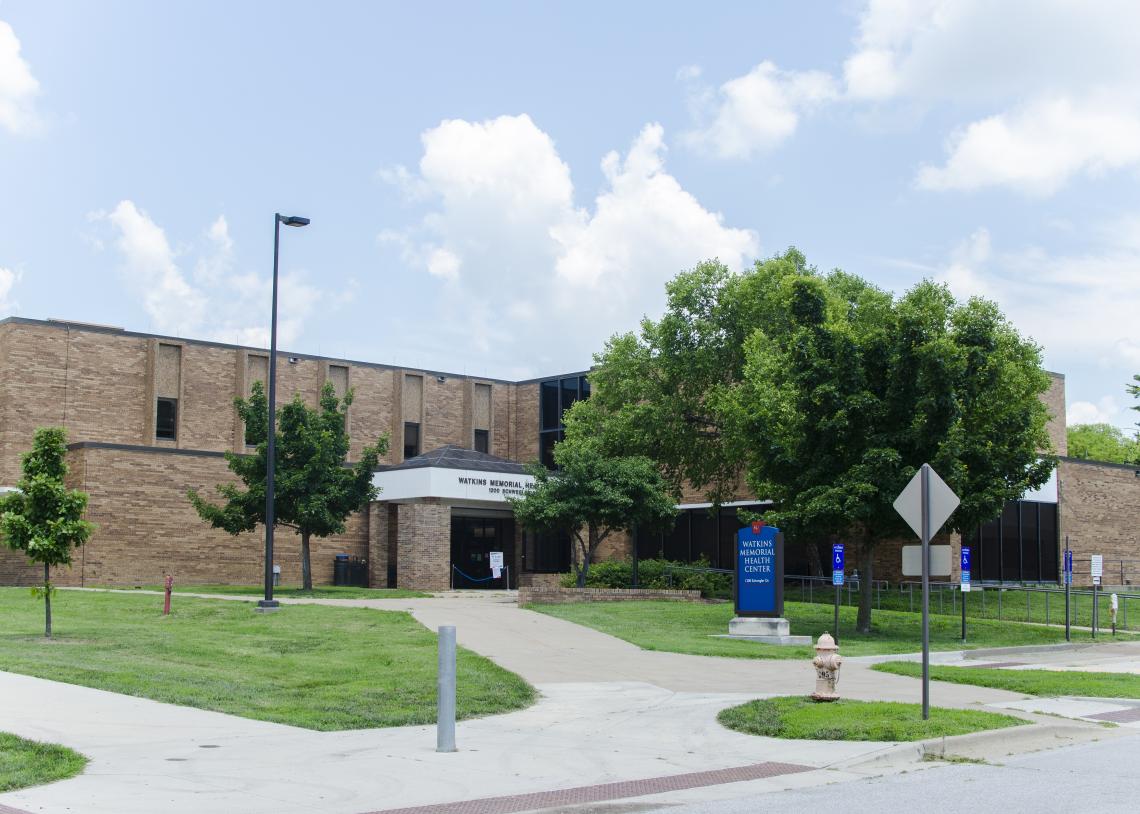 By the 1960s, the university had outgrown Watkins Memorial Hospital, opened in January 1932. The hospital, the gift of Elizabeth Miller Watkins and named for her late husband, could not be expanded because of its hillside site, so a larger, more modern hospital was planned for the playing fields southeast of Robinson Center.
George Hampton & Associates of Wichita and State Architect Kenneth R. McCain designed the dark brick building with medical director Raymond A. Schwegler. It cost $3.65 million, paid largely by student fees, and retained the original name.
Its 60,000 square feet included inpatient beds; a clinic; laboratory and X-ray facilities; a pharmacy; allergy and immunization, physical therapy, and psychiatric treatment areas; and administrative and business offices.
The Ralph I. Canuteson Memorial Library is named for the first student health director (1928-65). In 1988 the facility's name was changed to Watkins Memorial Health Center, and it is now known as Watkins Health Services.
A major expansion and renovation costing $5.6 million, designed by Lawrence R. Good & Associates of Lawrence and completed in 1997, created more physicians' examining rooms, a gynecology clinic, a men's clinic, and an urgent care clinic.
The facility offers treatment and educational programs in general medicine, sports medicine, nutrition, allergy management, physical therapy, immunizations, and radiology. A wellness resource center offers education and support in nutrition, fitness, alcohol and drug use, sexual behavior, and stress management. Counseling & Psychological Services has offices here.
A portion of a mural of sunflowers and Jayhawks created by Marjorie Whitney, a 1929 alumna and longtime chair of the design department, was salvaged from old Watkins and mounted in the new building. Furnishings she designed, including an original bed and screens, are exhibited, as are other memorabilia.
Watkins Health Services

1200 Schwegler Drive
Lawrence, KS 66045
---