David Booth Kansas Memorial Stadium
---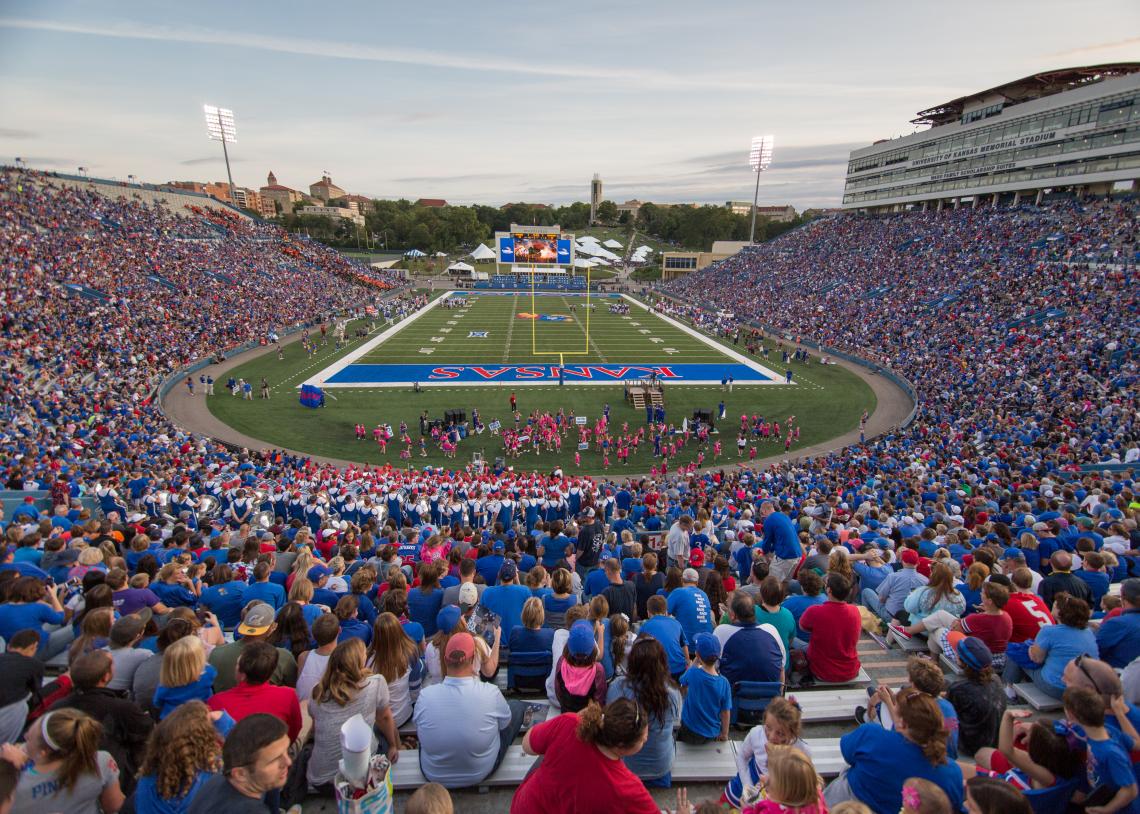 Dedicated Nov 11, 1922, to honor the 127 men and two women from the university's students, faculty, staff, and alumni who died in World War I, the stadium has been renamed the David Booth Kansas Memorial Stadium in honor of an alumnus who has donated $50 million toward the estimated $350 million cost of major renovations to the football stadium and other athletic facilities.
He and his family also made possible the Booth Family Hall of Athletics adjoining Allen Fieldhouse, and he purchased and donated to KU James Naismith's original rules of basketball housed in the DeBruce Center.
This is the third name for the athletic facilities at 11th and Mississippi streets. In 1889 students and faculty members organized the University Athletic Board to oversee competition in football, baseball and tennis with nearby colleges. KU's games were played on fields at a city park on Massachusetts Street, and the board began trying to raise interest in a university stadium and a gymnasium.
After Col. John James McCook, a Harvard-educated New York lawyer, gave the Commencement address in 1890 and watched a faculty-student baseball game at the park, he donated $2,500 for a university playing field.
The university bought 12 acres in a gully northwest of the small campus from Lawrence founder and former Kansas Gov. Charles Robinson, and grading and construction began in spring 1892 for a regulation field running east-west and surrounded by a fence.
The first football game at McCook Field was played Oct. 27, 1892, defeating Illinois 26-4. Spectators watched from on the sidelines and an 800-seat grandstand that was gradually expanded to seat about 10,000. A nearby house was a dressing room for home and visiting teams.
By 1920 the facilities were rundown and inadequate, and Director of Athletics Forrest C. "Phog" Allen toured several other universities to gather ideas for a new facility. This coincided with the desire for a building or other facility to honor the 129 members of the university community who died in World War I. 
The Million Dollar Drive fund-raising campaign began Nov. 18, 1920, just after KU's football team — coached by Allen for this one year — came from behind to tie Nebraska 20-20. Invigorated by this amazing feat, students and others donated nearly $225,000 within a few weeks, and plans were made for a stadium, a student union and a statue commemorating "Uncle Jimmy" Green, the longtime law school dean who had died in 1919.
Allen liked the horseshoe-shaped stands, football field and track at Princeton University, and LaForce Bailey, professor of architecture, and Clement C. Williams, professor of civil engineering, designed a similar dual-purpose stadium.
On May 10, 1921, about 4,000 male students and faculty tore down the rickety McCook stands and fence, and Chancellor E.H. Lindley broke ground for the new field, which ran north-south. The stadium was dedicated Nov. 11, 1922, before kickoff of the Kansas-Nebraska football game (Nebraska won 28-0). In April 1923, the first Kansas Relays, an invitational track and field event, were held.
Two seating sections were added to the original six in 1925, and in 1927 the "horseshoe" on the north end was added, covering the site of McCook Field and making the capacity 35,000.
Large spaces underneath the stands were used to house students immediately after World War II and later as art studios. In the 1960s additions to the stands raised the seating capacity to 51,500. In 1969 the track was named for Jim Hershberger, a track star, 1953 alumnus and university donor who is a member of the KU Athletic Hall of Fame. He donated $125,000 to replace the original cinders with an artificial surface. In 1970 artificial turf replaced the original grass field. 
In 1997 a two-year, $26 million renovation designed by Glenn Livingood Pezler Architects of Lawrence and HOK Sports of Kansas City, Mo., began. Funded largely by ticket surcharges, it included a new concourse, concession stands and restrooms; permanent light standards; new home locker room; new press box and media facilities; 36 suites; new elevators; and a video board. The stadium capacity now is 51,500.
In August 2008 the $31-million Anderson Family Football Complex opened adjacent to the stadium. Its name honors major contributions to the project from Dana and Sue Anderson and their son, Justin, and his wife, Jean.
In 2006, coinciding with groundbreaking for the new complex, the stadium playing field was named in honor of prominent donor Tom Kivisto of Tulsa, Okla. A former energy executive, Kivisto was a member of the KU basketball team from 1970 to 1974; earned academic All-American, All-Big Eight and academic All-Big Eight honors; and holds bachelor's and master's degrees from KU.
In 2014, after Rock Chalk Park opened, the stadium track was removed and replaced with turf.
David Booth Kansas Memorial Stadium

1101 Mississippi St.
Lawrence, KS 66045
---